Jean Richer's Nitro Gets a New Look!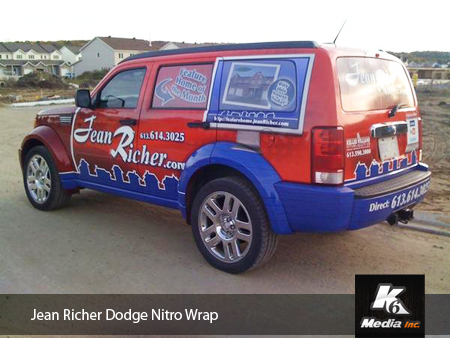 Here is what Jean Richer has to say about his experience at k6 Media
It is finally done, my Nitro is now wrapped.
It has been a long time since I wanted to get my Nitro wrapped. I had K6media here in Ottawa wrap my vehicle. I wanted to be able to brand myself but I also wanted to be able to use this form of advertising to also promote my listings. I have never seen anyone do this type of marketing but I thought it would be a very good idea.
I can brand myself AND promote listings. If you look at the vehicle you can definitely see my branding but the two rear windows also showcase 2 different listings. On the one side I am showcasing the townhouses in Rockland Town Square and on the other side I am promoting a beautiful home in Bourget.
The design of the vehicle was created by K6media, what a great concept. I would take a few minutes to thank Chris and everyone at K6media for all the hard work they put into this vehicle.
Visit Jean Richer's Blog Post Here